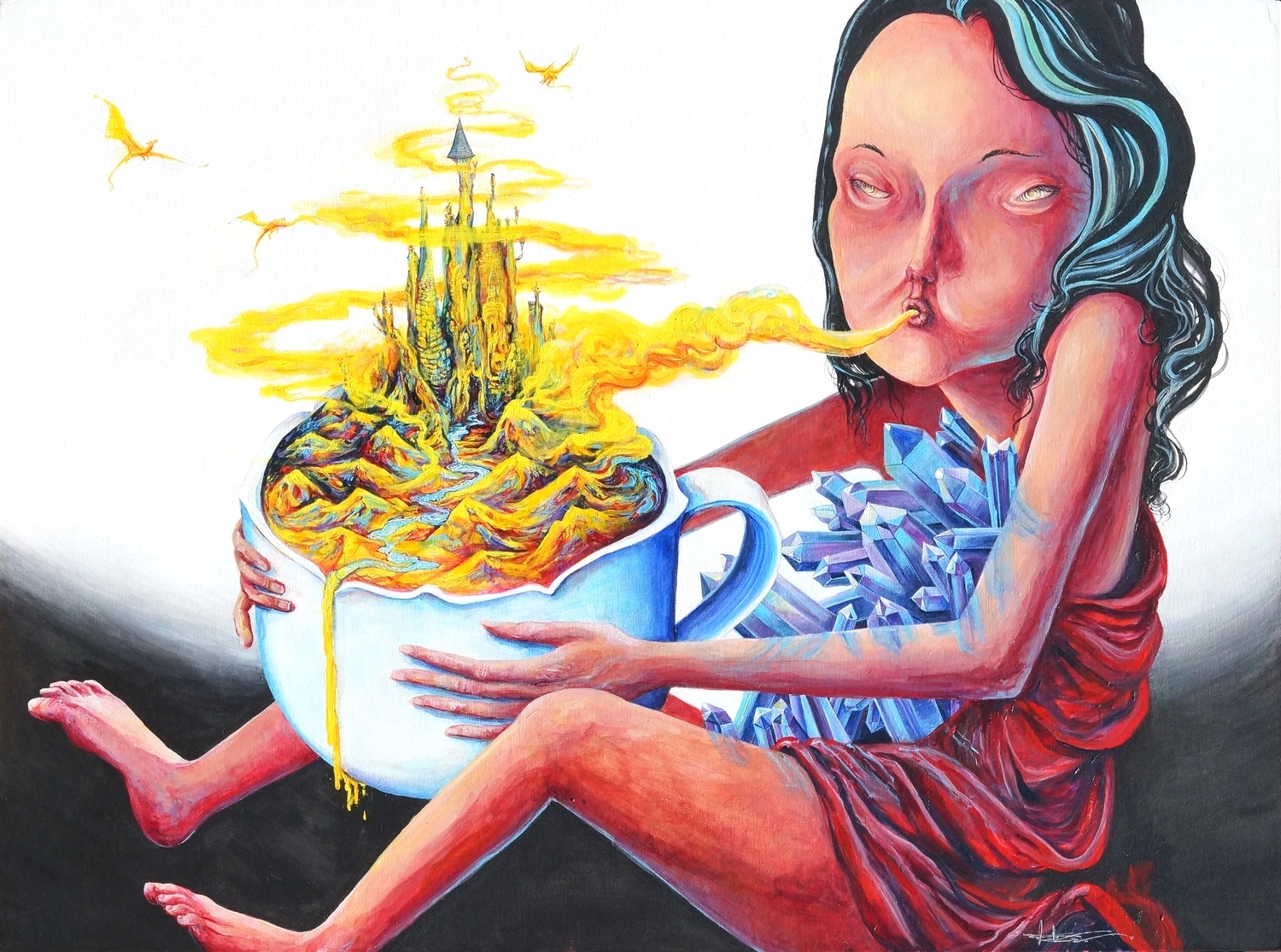 Tree of Life
Graphite and Digital Color
30" x 11"
2017

The tree is perhaps our mightiest ancestor, a supreme role model of wisdom, compassion and patience. They are cornerstones to the ecosystem, tending to the soil, climate, oxygen and waters. They host and support a vast pageantry of organisms, and eventually give themselves back to the soil. Even as decaying logs, they are one of the richest ecosystems. Through their seasonal transformations, they teach the dance of the elements and laws of nature. But we need to be quiet enough to appreciate this.

Our ancestors worldwide recognized the divinity in trees. They lived among them, witnessing their ways. They worshipped them, as our indigenous peoples still do.
We see this in their role as protagonists of myth and folklore. Egypt hailed the tree of life. The Kabbalah has its Tree of Life. The Nordics have the Yggdrasil. The Bible tells of the burning bush and Tree of Knowledge of Good and Evil.
Symbolically, the tree can represent the human spine. It also shares the form and functions of our lungs; trees carry out the other half of our breath cycle. The tree can also be seen as the world axis, a bridge between two worlds with branches sprawling to the heavens and roots burrowing into the underworld.

In this depiction, the Tree of Life carries the chakras or 7 major energy centers. Each one contains a portal to elements of the soul's journey. Throughout the image are depictions of the cycles of life, birth, death, evolution and continuation. I leave it to you to explore the symbols and reflect on their personal significance.
Tree of Life
Graphite on Paper
30" x 11"
2017
Waking Life
Ink and Digital Color
28" x 11"
2016

Consider this painting a roadmap into yourself.

The chakras are an ancient system that illustrate the subtle functions of your human vessel. The seven primary chakras represent major junction points of energy in the body. These symbols are meant to reflect on and help us gain insight on ourselves. They teach us how we grow and evolve as human beings and to access our highest potential.

Through reflection on these centers, you may gain access to personal insights, and learn how to transcend obstacles. Most of our greatest sources of frustration, disappointment and discomfort have roots within the self. We inherit much of these programs in the womb and early life, but as adults we are in the driver's seat. It's up to us to claim responsibility for our thoughts and actions; and what we are creating as a result. By learning where the patterns come from and understanding our own psychology start on the path to realize our greatest potentials.
Union
Oil Paint and Egg Tempera of Primed Paper
20" x 16"
2017

"Your task is not to seek for love, but merely to find all the barriers within yourself that you built against it." Rumi




The Cosmic Egg
Ink on paper
11" x 14"
The Cosmic Egg
In 2006 two artists began a surreal drawing collaboration together. It catalyzed many larger collaborations, collectively called the Antipodes Project and primarily lead by Ben Tolman. Some 40+ artists from around the globe have come together to meld intricate scenes drawn in black micron pen. Three large drawings have been completed so far, with a fourth and final in progress. This final piece is currently in my care.

This drawing, The Cosmic Egg, is a contribution to the fourth project.

More about the project Here.
2016
Pencil, marker and ink on paper
Animation and Augmented reality.
2017

Featured in the "Prosthetic Reality" Augmented Reality art book published by Eyejack.
To learn more about this project and to see it in action head HERE!
 
Soil Spirit
Oil paint on maple panel
10" x 10" x 2"
2016
 
Protector
Oil paint on paper
19" x 16.5"
Inspired by travels in the remote Amazonian jungle, and our ancestor's deep appreciation for the natural world.
2016
Elementals
Acrylic, coloured pencil, pen and marker on paper
28" x 9.5"

Nature spirits; beings that operate and animate the elements of nature.

2014
Opus
Colored pencil, watercolor, acrylic, marker and lipstick on paper
14" x 11"
"To see a World in a Grain of Sand
And a Heaven in a Wild Flower,
Hold Infinity in the palm of your hand
And Eternity in an hour."
William Blake
2013
The Depths
Acrylic and oil on wood panel
24" X 11" x 1"
2015
Bearded Empire
Pencil and ballpoint pen in a medium Moleskine sketchbook

2014
Self Chrysalis
Ink, marker, pencil
17" x 13"
Dedicated to those on the journey of self knowledge.
Life is a cyclical journey of many births and deaths. Every day you grow, leaving the old you behind.
2016
Onion Skins
Acrylic, colored pencil and ink on paper

27" x 19"

2014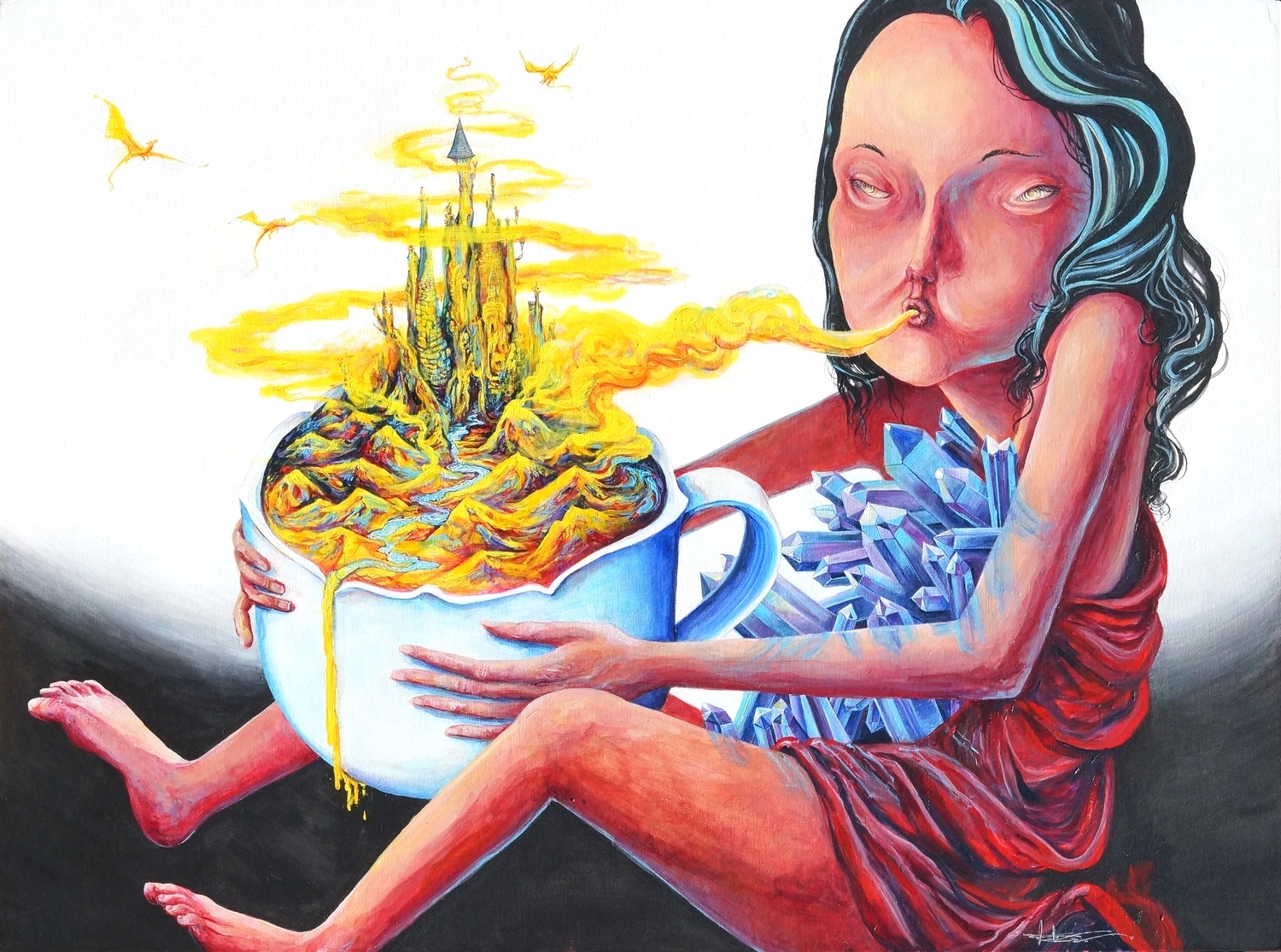 A Sip of the World
Acrylic on canvas board

2' x 4'

2014
Rooted in Ecstasy
Copper Plate Etching
6" x 4"

Danielle's first exploration of traditional print methods.

2014

 
Precession
Marker, coloured pencil, pen and acrylic on paper

10" x 24"

2014

 
Nova
Acrylic, pencil, panpastel and pen on paper

17"x22"

2013
Tiger Play
Colored Pencil, marker and watercolor on paper

11" x 8.5"

2011
Wave Rider
Marker, acrylic, colored pencil and pen on paper

8.5" x 11"

2011